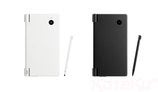 Busy week in Kotakopolis, which began with the run-up and expectations-setting for the Tokyo Game Show, and Ninty's palms-up, who-us denial of the DSi. That of course was followed by, sooprise, the official announcement of the DSi, which allows you to double your cretinous antisocial behavior by
pirating games
via its SD slot while you snap upskirt subway pics with its 0.3 megapixel camera. Swrrt. Highlights here, more on the jump:
Get A Good, Close Look At The DSi
AC/DC Rock Band is Wal-Mart Exclusive Afterall
Thompson Won't Fight Disbarment in Florida
Real Naked Lady Invades Rise of the Argonauts
Sony Booth Will Have 14 Unannounced Titles Playable At TGS
Does Survival Horror Really Still Exist?
Yggdra Union: We'll Never Fight Alone Review: A Battle Hard Won
A Talk with LucasArts: On Plagues, Reviews and Internal Development
Here's Your Kotaku (Video) Podcast (Maybe)
What Koei Is Bringing To TGS
Drum Training: And the Beat Goes On
de Blob Review: Painting A Very Pretty Picture
DSi Not Bound For U.S. Until Well Into Next Year
The Man Behind Marvel Movie Magic Hopes To Do the Same For Gaming
The Sackboys of AMUSEMENT
Let's Compare The DS Lite and the DSi
Nintendo Re-Releasing GameCube Games On Wii, Pikmin's First
Nintendo's New Wii Games: Punch-Out, Another Code, Sin & Punishment 2, Dynasty Warriors
Save Wii Games Direct To SD Card (Starting Spring 2009)
Nintendo Announce New DS: The Nintendo DSi
Binned Fable II CE Contents Back As Free Downloads
Best Buy Ad Featuring Gears 2 RC Tank
Pure Review: Pure Fun
Frankenreview: Silent Hill: Homecoming
New Wii, New DS, New Accessories? What do you think Nintendo Will Announce Tonight
Hands On With the iPhone's First Fantasy Action Game
Animated Resident Evil Movie First Screening At TGS
Silent Hill: Homecoming Review: Hello, Zombie Nurse
EA Axes Tiberium For Not Meeting Standards
Guess What Konami's Bringing To TGS...
New Campaign, Characters Coming to The Force Unleashed
LEGO Universe Already in Some Gamers' Hands
LEGO Batman The Video Game Review: The Good, The Bad and The Ugly
Nintendo: New DS Story Didn't Come From Us
Hey Microsoft, Bulgaria Is Not Germany, Japan or Korea!!