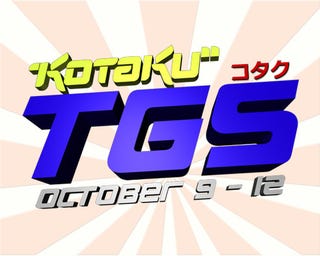 The Tokyo Game Show expo is in full swing. And while we may only have one day left of event, we've got DAYS of coverage coming at you. This year's Tokyo Game Show will be brought to you by myself, Brian Ashcraft, Luke Plunkett and Michael McWhertor, with back-breaking post counts and Tower support coming from Fahey and crew. As with past coverage we'll keep this single post updated throughout the show by category so you can bookmark it now if you want a single stop shop for all Tokyo Game Show news. See you on Monday, can't wait.
News
Namco Bandai's Teenage Boy Friendly Line Up Dated
Tetsuya Mizuguchi Is Making New IP
Microsoft Has Over 140 Demo Kiosks, Buddies With Square Enix
Sorry, But Ninja Blade Is *Not* Otogi 3
Tecmo Announces New Third Person Shooter
Monster Hunter Portable 2nd G Sells 2.5 Million In Japan
This is Your Tokyo Game Show 2008
Tekken 6 Coming To Xbox 360
New Xbox Dash Gets Release Date
Halo 3 Expansion Hits Fall 2009
Vague Date for Final Fantasy XIII, Nothing For Versus XIII
These Fighters Are In The King of Fighters XII
"PSP Plus" Brings DualShock Control To PSP
Old Snake, Sephiroth Get Sackboyed For LittleBigPlanet
Classic Controller For Wii Monster Hunter 3
Ensemble Studios May (Soon) Be Dead, But They're Not Out
360 Sales Have Doubled in US, More Than Doubled In Europe, Quintupled In Japan
Bionic Commando Delayed, Coming "Early 2009"
Uncharted Waters Online Getting PS3 Version
Microsoft: Japanese Sell Out Is "Totally Legit"
Resistance: Retribution, Resistance 2 Connect To Add "Infected" Gameplay
Xbox 360: Official Console of 2008 Recession
Konami Whips Up Castlevania For Xbox 360, PS3
Goichi Suda Has Not Given Up On You Nintendo Wii
Bionic Commando Movie Is A Definite Possibility
First Look At Street Fighter: Legend of Chun-Li Movie Poster
Tokyo Game Show Attendance Plummets Again
Revenge Of Public Day: TGS Attendance Rebounds!
Kojima Might Announce New Game At Next Year's TGS
Perhaps Why Tokyo Game Show 2009 Has Been Rescheduled...
Tokyo Game Show 2008 Attendance Actually Up!
Interviews
Justify Your Game: Tales of Symphonia: Dawn of the New World
LocoRoco 2's Number One Fan
Last Remnant Team So Cannot Wait For Unreal Engine 4
Justify Your Game Loco Roco 2
But I'm Talking Bout Halo Wars
Justify Your Patapon 2
Fable II Coop Patch Getting Once Over By Msoft, Molyneux "Super, Super Hopeful"
A Fable II Primer for Dog Training
Molynuex More About Emotions, Less About Trees
Molyneux Walks Us Through Fable II's Deep, Casual Combat
What Is Halo 3: Recon? Here's What It's *Not*
Yes You Can Ditch Your Dog in Fable II, But Only if You're Cruel
Why Goichi Suda Brought Beer To The Interview...
Molyneux Frets Over Dangers of Casual Gaming
How Erotic Games Influenced Platinum Games
Microsoft Coy On Future Spring & Fall Upates
Resident Evil 5 Producer Likes New Controls Better
On The Possibility Of 2D, HD, XBLA & PSN Sonic Games
Can Japan's Number One Xbox 360 Fanboy Justify His... Hair?
Justify Your Banjo Kazooie: Nuts & Bolts
Hands On/Impressions
LocoRoco 2: Afros, Home, Luft Balloons and Water
Talking the New Xbox Live Experience for a Short Ride
Hands On With Sega's Let's Tap!
Dead Rising Wii Is A Terrible, Terrible Idea
White Knight Chronicles, A Powerpoint Presentation
An Intimate Evening With The PS3 Chatpad, Headset
First Hands-on With Street Fighter IV's Sakura
Resident Evil 5 Co-Op Changes The Game
Klonoa Wii-make Hands On: Awesomely Waggle-Free
Xbox 360, Cave Shoot 'Em Up, Up, Up
Why Home Should Not Be Shown At Game Shows
Getting My Arse Kicked At Pro Evo 2009
Lumines Supernova At TGS Is Like Lumines Everywhere Else
So, Has Bionic Commando Been Fixed Yet?
LocoRoco 2 And the Ouchie Bee Sting
Digging Into Spelunker HD For PlayStation 3
Ninja Blade Hands-On: See, There's This Ninja...
Resistance: Retribution Isn't a Shooter, Fortunately
Otomedius Gorgeous! Our TGS Boob Shootin' Fix
The PSP Needs More Games Like Macross Ace Frontier
'Demon's Souls' Hands-On Impressions
Liveblogs
Faux Liveblogging Namco Bandai's Pre-TGS Presser
TGS Opening Keynote Liveblog (Square Enix!)
Liveblogging Microsoft's TGS Keynote
Trailers/Movies
National Geographic : Panda: Total Panda-Monium
Wii Ski and Snowboard: EXCITING
Patapon 2 Helps You Keep Your Groove
Let's Patapon 2 Multiplayer
No More Heroes 2 - Desperate Struggle
Halo 3: Recon, The Trailer
Noby Noby Boy "Gameplay" Shown At TGS
Awesome New Prince of Persia Trailer and Screens
New Resident Evil 5 TGS Trailer
New Dynasty Warriors 6: Empires Trailer and Screens
A New Street Fighter IV Trailer Has A Little Bit of Everything
Bayonetta TGS Trailer Surprisingly High On Crotch Shots
First Look At Castlevania Now-Gen Is Shorter Than This Headline
Screenshots/Images
Afro Samurai's Cutting Screens
Naruto: Ultimate Ninja Storm Screens Appear Out Of *Nowhere*
Loads Of LocoRoco 2 Screenshots
First Tekken 6 Multi-Platform Screens
Yakuza 3's Sexy Rubdown Lady
First Arkanoid Live! Screens Deserve Compulsory Exclamation Point
Here Are Your New Street Fighter IV Screens
Halo 3: Recon: Box Art
New Monster Hunter 3 Screens
Still Even More Ninja Blade Screens
Dynasty Warrors: Strike Force Striking PSPs
TGS Booths/Babes
Xbox Japan Booth Babes Adore New Booth Babe Outfit
The Booth Companions of Tokyo Game Show 2008
Microsoft's New Booth Companion Outfits: Impressions
Lets TGS! Yakuza 3 Booth Breaks New Ground With Champagne Fountains
Lets TGS: The Scariest Booth Companion
Ace Attorney Booth Is Guilty of Being, Well, Amazing
Microsoft's Booth Companions Bid Adieu to You
Yakuza 3 Lady Girls Spotted With Brown Man
Lets TGS! Oh, Mai, Mai, Mai, Mai, Mai
Booth Companion Showcase: Tecmo Stays Classy, Trashy
So Just How Close ARE The Microsoft & Square Enix Booths?
High Noon: Microsoft Booth vs. Sony Booth BRAWL!
Square Enix, Capcom Booths Are A Teeming Mass Of Humanity
Street Fighter IV Booth Punches The Competition In The Face
The Simple Booth Companions
Video: Sony's Booth Companions Wish You A Good Morning
Booth Companion Showcase: Konami Keep Things Understated
TGS Booth Babe March, Brought to you By Microsoft
Booth Companion Showcase: EA Does More Harm Than Good
Booth Showcase: Sony's Great White Hype
Booth Showcase: Microsoft's Big Push
Booth Showcase: Capcom's Money Printing Apparatus
Booth Showcase: Yes, Sega Were At TGS
Booth Showcase: Konami's Solid Sense Of Longing
Culture/TGS Floor
What's The Most Expensive Game We Saw In Akihabara?
Rambo The Arcade Game: Hands On
Let's Namco Bandai Headquarters Visit!
Suck it Down: Street Fighter IV Makes Kotaku its Bitch
Suck it Down: Namco's Crane Game Makes Kotaku its Bitch
Mappy The Robot Runs a Maze
Arcades Outside Japan "Practically Dead"
Submarine Played Nowhere Near North Korea
Afro Samurai Dinner Theater, Minus Dinner... and Theater
Namco Bandai's Tokyo Game Show Schwag
Super Mario World Golf Shoes Exist For Some Reason
A Video Walkthrough of Tokyo Game Show 2008
Watch Real World Sackboy Waddle Into your Nightmares
Weresonic Stalks the TGS Floor
Super Smash Bros. Brawl Designer Checks Out The Wii Competition At TGS
Square Enix Expensive Merchandise Get
How Are The King of Fighters XII Cabinets Linked?
First Public Day of TGS: Shakey Cam Run Through
The Official Street Fighter IV Pins of TGS
A Dressed-Up Stroll Down TGS Cosplay Alley
Cosplay Alley: The Other Side Of The Lens
What The Hell Are These Guys Watching?
Brown Man Bedtime Story
MotorStorm With Mini-Motorbike Motion Controller
When Tecmo's Logo Met Koei's Logo
Microsoft Remind Japan What 360 Games Look Like, Part II
This Is What Those Guys Were Watching
Tokyo Game Show: The Teardown
Kid's Corner Is For Kids, Games And Sleepytime
The TGS Tear Down Video (With Special Guests)
Metal Gear Solid 4 Raiden Cosplay: You Have To See It
Chun Li Crotchplay: Violation Of Cosplay Rule #117
Booth Showcase: Capcom's Money Printing Apparatus
Studio Ghibli/Level 5 Game Box Gives Other Game Boxes The Finger
Pre-Show Updates
Indies Bringing A Sense Of Wonder To TGS
Alan Wake At TGS? "Not An Announcement"
What Companies Will Be At TGS? These Ones.
Team Ico's PS3 Game Ready 'Soon', but not by Tokyo Game Show
Kingdom Hearts A PS3 Exclusive, Will Be Seen At TGS
Will There Be More PS3 or Xbox 360 Games At Tokyo Game Show?
Microsoft To Give Tokyo Game Show Keynote
Dragon Quest IX, Final Fantasy XIII Not Playable At Tokyo Game Show
This Is What Marvelous Is Bringing To TGS
Puzzle Quest For PS3 To Bedazzle At Tokyo Game Show
Infinite Space Getting Animated Short Films
What's Taito Bringing To TGS?
Sony Booth Will Have 14 Unannounced Titles Playable At TGS
Guess What Konami's Bringing To TGS...
Katamari Damacy Creator's Next Game Rolling To TGS 08
What's Sega Bringing To TGS?
Animated Resident Evil Movie First Screening At TGS
Hudson Brings Fish, Marbles, Bombs to Tokyo Game Show
What Koei Is Bringing To TGS
What's Q Bringing To TGS?
Here's Microsoft's TGS Booth Game List
Namco Bandai Pre-TGS Press Conference: The Choicest Quotes