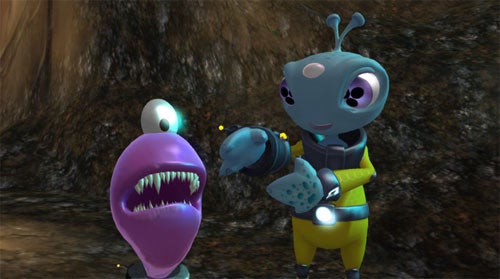 The results of the inauguaral PAX 10 indie games showcase are in and the audience has spoken. 10 games won spots on display at the 2008 Penny Arcade Expo, where convention goers were asked to cast secret ballots selecting their favorite of the lot, and Twisted Pixel's XBLA action platformer The Maw came out on top.
"The intense sense of purpose and camaraderie amongst The PAX 10 was astonishing," commented Michael Wilford of Twisted Pixel. "We feel extremely lucky to have been chosen from such an august group and grateful to have been a part of the PAX experience."
Judging from what I've seen of the game along with
Crecente's hands-on impressions
from the show, I'd say the PAX audience made a very good choice. Look for the award-winning title to hit Xbox Live Arcade early next year.
THE PAX 10 AUDIENCE CHOICE AWARD WINNER ANNOUNCED
"The Maw" Selected from PAX 2008's Inaugural Indie Games Showcase Seattle, Wash., September 22, 2008 - The votes are in! The organizers of The PAX 10 today announced Twisted Pixel's The Maw as winner of the 2008 Audience Choice award. The PAX 10, a showcase of ten independently developed games, were selected by a panel of 50 industry experts out of over 80 submissions as the best in terms of gameplay and "fun factor." The PAX 10 winners displayed their games at the 2008 Penny Arcade Expo (PAX), allowing attendees the opportunity to view each of the titles and cast their secret ballots, earning The Maw top honors for the inaugural year of the showcase event. "The PAX 10 winners were great to work with and were as busy as any other booth on the Expo Hall floor," said Penny Arcade's Robert Khoo. "We're happy that we could support these amazingly talented developers and want to thank everyone who voted for their participation." "The intense sense of purpose and camaraderie amongst The PAX 10 was astonishing," commented Michael Wilford of Twisted Pixel. "We feel extremely lucky to have been chosen from such an august group and grateful to have been a part of the PAX experience." The Maw is a 3D action-adventure game in which players take control of Frank, a simple alien that must partner up with The Maw, a cute little blob with an insatiable hunger. Players will need to harness The Maw's unstoppable growth and incredible powers in order to help Frank find his way home. The game is expected to debut on Xbox LIVE® Arcade in early Q1 2009 and has been rated "E10+" for Everyone 10 and older by the Entertainment Software Rating Board for this platform. The complete list of 2008's The PAX 10 (in alphabetical order): - The Amazing Brain Train by Grubby Games (puzzle/strategy) - Audio Surf by Dylan Fitterer (rhythm/action) - Chronotron by Scarybug Games (puzzle/platformer) - Impulse by a team of Rochester Institute of Technology students (puzzle) - The Maw by Twisted Pixel Games (action/adventure) - Polarity by a team of Carnegie Mellon University students (platformer/puzzle) - Project Aftermath by Games Faction (tactical/action) - Schizoid by Torpex Games (action/strategy) - Strange Attractors 2 by Ominous Development (puzzle/strategy) - Sushi Bar Samurai by Molly Rocket (exploratory puzzle)