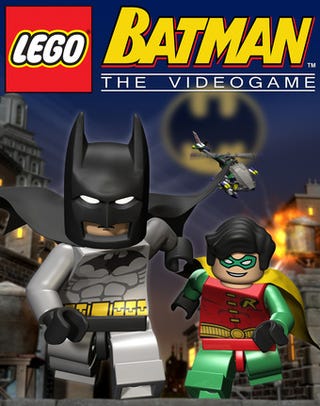 Alright, well, huge dump forthcoming on Tuesday, with Lego Batman doing the
full Ginsburg
on seven platforms. Of course,
you were all alerted
to Mega Man 9's multiple release dates in advance; again, Tuesday for the Wii; Thursday for the PS3, next week for the 360. Duke Nukem 3D tides over you XBLA gamers meantime. Brothers in Arms Hell's Highway, Samba de Amigo and Baja: Edge of Control round out this weeks drops. This list is so frakishly long I'm sticking it on the jump. But FYI, I'm gonna buy Duke while waiting on Mega Man, renting Brothers in Arms and Baja, which
piqued my curiosity
six months ago and managed to hold it. What about you? Tell us in the comments.
Monday (Sept. 22)
Mega Man 9 (Wiiware) Baja: Edge of Control (360, PS3) Brain Quest Grades 3 & 4 (DS) My Little Pony Pinkie Pie's Party (DS) Nancy Drew: The Hidden Staircase (DS) Hell's Kitchen (PC) Zoo Hospital (Wii) Medal of Honor: 10th Anniversary Edition (PC) SimCity Creator (Wii) de Blob (Wii) Wario Land: Shake It! (Wii) EA Sports '08 Collection (PC) Di-Gata Defenders (DS) DropCast (DS) SimCity Creator (DS) Kirby Super Star Ultra (DS)
Tuesday (Sept. 23)
Lego Batman (PS3, Wii, 360, PC, PS2, PSP, DS) Brothers In Arms Hell's Highway (PS3, 360) Samba de Amigo (Wii) Cabela's Dangerous Hunts 2009 (Wii, 360, PS3, PS2) Pitfall: The Big Adventure (Wii) Flight Simulator X: Gold Edition (PC) B-Boy (PSP) Lost in Blue: Shipwrecked (Wii) Brothers in Arms: Double Time (Wii) Rebel Raiders: Operation Nighthawk (Wii) BUZZ! Quiz TV (PS3) Rhapsody: A Musical Adventure (DS) Onimusha: The Essentials (PS2) Margot's Word Brain (Wii, DS) Pipe Mania (DS) Twin Strike: Operation Thunder (Wii) Barbie Fashion Show: Eye for Style (DS, PC) My SAT Coach (DS) Pipe Mania (PSP, PS2, DS) SingStar Pop Vol. 2 (PS2) Shaun the Sheep (DS) Hi! HamTaro Ham-Ham Challenge (DS) Dinosaur King (DS) Buzz! Master Quiz (PSP) Everlight (PC) Warriors Orochi 2 (360, PS2) Dark Horizon (PC) Pure (PS3, 360) Dragon Ball Z: Trilogy (PS2) King's Bounty: The Legend (PC) Time Hollow (DS) Disgaea DS (DS) Line Rider 2: Unbound (PC) Sid Meier's Civilization IV: Colonization (PC) Brain Quest Grades 5 & 6 (DS) The Settlers: Rise of an Empire Gold Edition (PC) The Price is Right (PC)
Wednesday (Sept. 24)
Duke Nukem 3D (XBLA)
Thursday (Sept. 25)
Mega Man 9 (PSN) Wipeout HD (PS3)