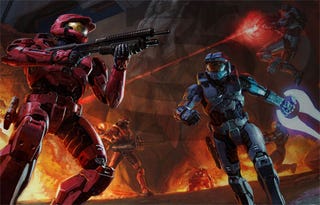 According to Gamer.tm, which cites an unspecified "industry insider," Bungie will be revealing its next title at an event in Europe next week. Bungie had
planned to showcase the game at this year's E3
, plans that were
scrapped by its publisher
, Microsoft. Microsoft's Don Mattrick let slip during the E3 expo that the game was
set in the Halo universe
and that the title would be better served being shown at a "
dedicated event
." We're checking with Microsoft to see if the rumor has any validity, hoping that someone didn't dredge up and repurpose
this old (and debunked) rumor
. Gamer.tm's source also points to a potential game reveal from Rare. That sounds a little less likely, as the UK developer still has
Banjo Kazooie: Nuts & Bolts
to wrap up and publicize. We'd recommend canceling any breath-holding you may have planned, but will update when we have anything further.
Bungie game announcement next week
[Gamer TM]