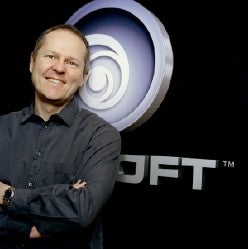 As one commenter elsewhere points out, must be Europe buying all these Imagine titles, because for Ubisoft it's a bigger market than the U.S., "by more than five percent," said Ubi CEO Yves Guillemot in an interview with Gamesindustry.biz. From the sound of it, the strength of European currencies against the dollar has something to do with it. But Guillemot also says the market's growing because gamers are becoming "more accessible" to European games, and of course flacks Ubisoft titles as leading the charge.
EndWar
(out in October) features voice commands, for example. So will
Tom Clancy's H.A.W.X.
, out next year. "A game like EndWar, for example, which you can control by voice - it's totally changing the industry because it gives you the opportunity to command what's happening, and to have a quick answer to the orders you give," he said. "And it's the same for a lot of other games, like the party games you can play - the games with guitars are also helping things to increase the fun, and bring more people. Because when you have fun with your family on the game, you take them into more games with you." If Europe is indeed Ubisoft's biggest market, fine, I don't know their numbers. But this to me sounds like sour grapes for getting beaten up by U.S. critics and gamers, especially over its Wii titles, and more than a little justification for
going so heavy on the casual stuff
. Whether that's retroactive justification - or pre-emptive - bears watching.
Ubisoft: Europe is Now Our Biggest Territory
[Gamesindustry.biz, via
Joystiq
]