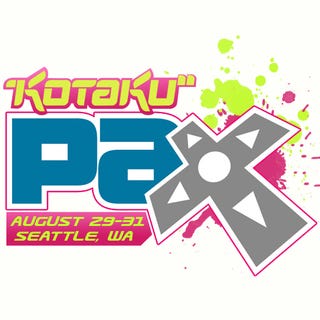 Penny Arcade Expo continues to chug along, mixing friends, family and gaming into one big, happy party. The weekend has seen some amazing panels, some neat music, plenty of fans and more games than you could play in three days perusing
the impressive exhibit hall
. The show may have ended but our coverage lives on, check out all of the interviews, videos, and news from the show on the jump. Also, don't forget to hit up AJ's
massive impressions round-up.
News
PAX Report – News From The Front
Ghostbusters The Video Game The Lanyard
PAC-MAN Fever Mobile Tournament at PAX
Halo 3's Purple Reign Makes PAX, WWW Appearance
Fable 2 Pub Games Patch Coming, Maybe Repercussions Too
Microsoft Hasn't Forgotten About Live Anywhere, iPhone Either
Halo Wars Playable, But Not Here
Problems at PAX – Hundreds Turned Away From Fallout
Fable 2 Hours From Gold, Molyneux Awaits Gamer Reactions
PAX Pack Brings Nerdcore to Rock Band, Donations to Child's Play
Earn Gold Unlock Fable 2 Items with Web Games
Gamer Glasses Coming
Left 4 Dead to be Cut Scene Free
Bethesda Donating Amazing Fallout 3 Airstream to Child's Play
Win Our PAX Schwag Bag
Pax To Address Overcrowding For 2009
The Problem with PAX
Impressions
Kicking Zombie Ass In 360 Left 4 Dead, Why No PS3 Version
The Maw Impressions
PAX Hands-on: The Conduit
PAX Impressions: Video Game Hands-On Blitz
Gauntlet DS Wicked Retro Fun
Breaking Faces with FaceBreaker
Video
A Fireside Chat With Gabe and Tycho
The One-Ups Jam to Chrono Trigger at PAX 08
Justify Your Fruit Fucker Cosplay
Tristan Rocks PAX 08
Tristan and the Frag Dolls Play Raving Rabbids TV Party
Hell's Highway Barbershop
Halo 3 Feeding Frenzy Sweeps PAX
A Sea of Pip Boys Rock Out to April Wine
Wario Land Shake It Impressions
Live Blogs/Panels
Liveblogging the Penny Arcade Expo Keynotes
PAX Panel: Girls and Games
PAX Panel: How To Get Your Girlfriend Into Gaming
Culture
PAX 2008 Concerts - The One-Ups, Freezepop and Jonathan Coulton (I hope)
Inside the Fallout 3 Airstream
A Taste of PAX Bit Boxing
The Official Vault Dweller's Survival Guide In Pictures
The Cosplay of PAX 2008
More Cosplay of PAX 2008
Even More Cosplay of PAX 2008
Schwag Off: Who had the Best Schwag of PAX?
Pre-Show Updates
Examining the Penny Arcade Expo Show Floor
Penny Arcade Announces "Fatal1ty" WON'T Be at PAX
Behold...The Omegathon!
Penny Arcade Expo Sched Hits
Play Xbox 360 Left 4 Dead at PAX, PC Version in France, Germany, UK
Seattle Times' Pre-PAX Profile of Penny Arcade
D3 Invades PAX 2008
Microsoft Unveils PAX Schedule
PAX Road Trip: T-Minus 2 Days
On the Road to PAX: The Idaho Edition
Sony, Whatcha Showin At PAX?
Gauntlet DS, Monster Lab at PAX
The Schwag of PAX08
PAX Road Trip: The Washington Edition
Defense Grid: The Awakening To Demo At PAX
Nerdcore Rising Documentary Gets PAX Screening
Early Look at PAX Showroom Floor