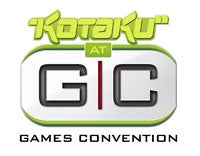 The Leipzig Games Convention, the consumer showing of Europe's finest forthcoming video games (read: whatever SingStar version is planned for the Holidays), hits the Leipziger Messe from August 20 to August 24. And Kotaku was there! No, they're not there anymore, and yet they keep writing. Seriously, we can't stop. If you missed anything, peruse our massive catalog of updatage, a reference guide to everything we've written from the show updated throughout each day. If you'd prefer to "feel" Games Convention through the
power of interpretive dance
, we got you covered there, too.
Game Impressions
New Dead Space Hands-On Impressions
Killzone 2 Multiplayer Hands On - Five Good Things
The Witcher Enhanced Edition - What A Difference A Year Makes
Fracture Multiplayer - The View From Germany
Golden Axe: Beast Rider Impressions Of Excessive Brown
Left 4 Dead To Follow Portal, TF2's Example
Runes Of Magic - More Than A WoW Clone
MadWorld Isn't Just About Throwing People Into Walls Of Spikes, Y'know
Heavy Rain: You're Soaking In it
Dead Rising Wii - How Gimped It Is
Hands-On: Losing The Twin Towers With Invaders!
The House of the Dead Overkill Impressions Of Delicious Gore
Beer Goes Well With Guitar Hero: World Tour
Hands On With Street Fighter IV 360
Web Of Shadows Hands On - Spider-Man Reborn
Dark Void - Have Jetpack, Will Travel
MK vs. DC: Hands On With The Joker
Grand Theft Auto IV For PC Eyes-On
H.A.W.X. Aces Air Combat
inFamous - Sucker Punch's Electrical Outlet
Far Cry 2 Map Editor Makes Map Editing Easier
Bayonetta Impressions: What Deadly Hair You Have!
StarCraft II: Hands-On With The Zerg
Wipeout HD One-Year Anniversary Impressions
Star Wars: Clone Wars - Saber Rattling
The Chronicles Of Spellborn: A Different Kind Of MMORPG
Diggin' Lode Runner XBLA At Games Convention
Game Announcements
What's In SingStar: Queen Anyway?
Naruto: Ultmate Ninja Storm Getting Day One DLC
Silent Hill Homecoming Coming to Steam in September
Buzz!: Brain Bender announced for PSP
'SingStar: Singalong With Disney' Announced For PS2, Exclusive to PAL Territories
SCEE announces VidZone Service For PS3
EyePet Brings Virtual Monchichis To PlayStation 3
GH: World Tour Wii Gets Mii Freestyle, Air Drums
Konami Sheds Light On Lords Of Shadow
Wonder Woman, Raiden Two Of Four New Kombatants
House Of The Dead Overkill Beats The Shit Out Of Grooming A Horse
EA Sports Adds Tennis To '09 Line Up, Snags Wimbledon Rights
BioShock Brings Challenge Rooms to PS3, Coming Oct. 21, Oct. 24
Interviews
Blizzard Is Tired Of You Asking When StarCraft II Will Be Done
Brian Bright On Guitar Hero: World Tour - We're Bringing It
PS3 World Tour Rock Band Compatible
Only The Barbarian Will Return In Diablo III
News
Left 4 Dead Box Art To Change? "Stay Tuned"
Artists Pulls 9/11 Invader Exhibit from Games Convention
LBP's User-Generated Content Is Region-Locked? Huh?
Taito Considering Legal Action Againt 9/11 Invader Artist
Guinness World Records Set At Leipzig GC
Killzone 2 Adds Multiplayer Bot Action
The Activision Presser, With Special Guest German Guy
Get A Good Look At The New PSP-3000
Konami's GC 2008 Presser - Here's What Happened
GC Presser Round Up: Sony
Artist Explains WTC Space Invaders Exhibit at Games Convention
Space Invaders Attack World Trade Center At Games Convention
PS3 Wireless Keypad Ships This Holiday Worldwide
New Official Details, North American Date For PSP 3000
Meet Your Sexy New Red Alert 3 Cast
Uncharted: Drake's Fortune 160GB PS3 Priced, Dated for North America
Warhawk Jet Packs, Crash Commando, Savage Moon Invade Sony PSN
PS3 Firmware Update Lets SingStar Owners Rip PS2-Only Tracks [Update]
Heavy Rain Gets Public Showing At Games Convention
PlayStation 3 160GB Model Coming To Europe
PlayStation 3 Controller Getting Wireless Keypad
Sony Announces New PSP Model
Gary Oldman Answers Call of Duty
Sims 3 Will Be Out In February 2009
Rumor: Sony To Debut EyeToy Play 2 At Leipzig
Unless You're Nintendo, Game Consoles Are Expensive
Frenchies Bust Into Sony Presser Rehearsal, Spoilers Ahead
PC Gaming a $10.7 Billion Industry
Here's What EA Is Bringing to Leipzig
Street Fighter IV Console Debut At Leipzig GC!
360 Gets Improved Controller, But Only For A Limited Time
Family of 9/11 Victims Tear into Space Invaders Exhibit
PSP-2001 vs PSP-3000
No 160GB PlayStation 3 For You, Australia
Team Fortress 2 Updates Coming To Xbox 360 Later This Year
Invaders! Indeed No Longer Playable At GC 08
The GC Adventure Comes To A Close
David Perry's Keynote: Sony Will Never Make Money on the PS3
Leipzig GC Sets New Attendance Record
Don't Worry, Red Alert Fans, Jenny McCarthy Is Apparently A "Badass" Tanya
Behold, Leipzig's Best In Show
Leipzig Games Convention Dated For 2009... And That's Final!
Videos
MK vs. DC: Joker Will Shoot You In The Face
Games Convention As Interpretive Dance
New Dark Void Trailer Talks Vertical Cover
New Wheelman Walkthrough Shows Early Mission and Lots of Car Crashing
Midway Releases New Mortal Kombat vs. DC Universe Teaser
Tyranids Eat Space Marines In Dawn of War 2 Trailer
First Real Pro Evo 2009 Gameplay Footage
Prince of Persia Gameplay Walkthrough
The First Lords of Shadow Trailer
New MadWorld Trailer Is Mad As Ever
See Your Sexy New Red Alert 3 Cast
Far Cry 2 Map Editor Looks Absolutely Amazing
Debut FIFA 09 Trailer
New Killzone 2 Multiplayer Trailer
A New Perfect World International Trailer
Capcom Releases New Resident Evil 5 Trailer
Something Wicked This Way Comes, A New Harry Potter and The Half Blood Prince Trailer
New Mirror's Edge Gameplay Trailer Shows Free Running Acrobatic Insanity
Watch The Heavy Rain Gameplay Trailer
Midway Releases New Mortal Kombat vs. DC Universe Teaser
New Warhammer Online: Age of Reckoning Cinematic Trailer
Own The City That Never Sleeps in This is Vegas!
New Fracture Walkthrough Talks About Multiplayer
A Look at Mercenaries 2: World in Flames "Zero Rules" Co-Op Play
New Jumpgate Evolution Trailer Shows Intersteller Greatness
Mechanical Arm Swinging Goodness in Bionic Commando Trailer
This Time, Decapitate Zombies With Your Wii-mote
Screens
Sexy New WipEout HD Screens
New Red Faction Guerrilla Screens
New RACE Pro Screens
New Mortal Kombat vs DC Screens
New Lego Batman Character Announced, Batgirl!
Will Diablo III Be Playable At BlizzCon?
Booth Babes
It's Not Games Convention Until The Stripper-Mobile Arrives
Aion Booth Babe Feeling Blue
Sega Sexes Up Samba De Amigo For Games Convention
Age Of Conan Does Booth Babes Right
Culture
GC Stories - A Light In The Darkness
Games Convention's Most Ignored Games
Sega Wins Kotaku's Coveted "Best Press Kit Of Games Convention" Award
Cosplay Runs Rampant At Games Convention
Wanna Play SOCOM At Games Convention? On Your Knees, Boy!
Lunchtime At Games Convention 2008
Germany - Ich Leibe Es!
Where Old Promo Statues Go To Die
And Then They Started Breakdancing...
Pre-Show Updates
No PS3 Price Cut At Leipzig
No Leipzig Press Conference From Microsoft
Nintendo Not Attending Leipzig This Year
Games Convention 08 Is Press Conference Central
Blizzard Unveiling Lich King cinematic, Details at Leipzig
Age Of Conan Invades GC
Sega's GC Line Up - Sonic, Samba, And Surprises
Headstrong's Secret Sega Title To Get Leipzig Outing
1C's Games Convention Line-Up Featuring Playable Theater of War 2
Dragon Age Visits Gen Con Indy, GC, PAX
Paradox Interactive At GC - Project Mayhem?
Video Games Live Brings Crysis Music Home
Why Gears of War 2 Won't Be At Leipzig
Deep Silver At Games Convention 2008
What's EA Bringing To Games Convention?
Early Images From Games Convention 2008