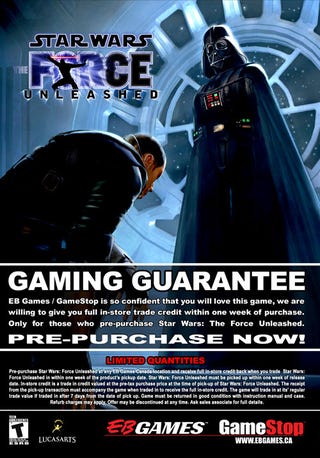 You may remember back in March, when EBGameStop announced a too good to be true
buyback program
of sorts for the PLayStation 3 title Haze, in which they offered gamers a chance to trade-in the title for full purchase price in case they didn't enjoy the game. Fortunately for GameStop,
Ubisoft pulled the emergency brake
on that deal, but now GameStop Canada has brought back their gaming guarantee, only this time for a title that might not suck. Players picking up Star Wars: The Force Unleashed within seven days of release have a week to return the title for full-price store credit should they dislike the game, or beat it early. I'm not seeing anything about this program outside of Canada, which is probably due to the fact that GameStop knows those friendly Canadians are just too gosh-darn polite to take advantage, while in the states they'd have 50% of their inventory back by Friday.
Star Wars: The Force Unleashed
[EBGames Canada via
NextGenPLayer
- Thanks Dave!]