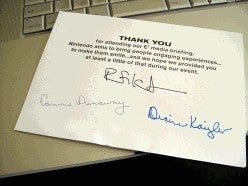 So that thank-you note thing was weird. Yeah, it's a nice gesture, but the wording and the tone, I dunno ... it reads like the kind of apologetic, elephant-in-the-room e-mail a guy would write to a woman he disappointed with lousy sex the night before. Oh, Ninty, we know we can be difficult to please, and we know you'll do better next time. Muwah. A.J., our new San Francisco correspondent, rode some ferry boat and got a bottle of Cristal and a massage and a look at Godfather II; Microsoft had some 'splainin to do re: Final Fantasy XIII and Asia; and Midway and NCsoft joined forces to send like 100 developers to the Austin, Texas unemployment office this week. Those plus some other highlights, with the full list of Kotaku Originals on the jump.
Godfather II First Impressions
NCsoft Lays Off 21
Godfather II: The Don Treatment
Microsoft Clarifies Final Fantasy XIII Asia Version Clarification
Midway Boss Explains Lay-Offs, 'Career Criminal' Cancellation To Rank And File
Strong Bad's Cool Game For Attractive People: Homestar Ruiner Review
Braid Review: Time, Time, Time, See What You've Done To Me?
Spite Bowl and Taco Bell: Ruminations on a More Social Madden
Epic's New Game – President Tells All
The Odd Couple - EA & Grasshopper or Suda 51 & Shinji Mikami
Celebrity Sports Showdown Impressions
Halo 3 Plasma Pistols
Boogie SuperStar – Objectifying And Empowering Tween Girls Everywhere
Tetris, Spore, Scrabble and Sudoku – EA's iPhone lineup
Harry Potter and the Half-Blood Prince – Wii Impressions
Battlefield Heroes – Battling The Stigma Of Battlefield
I Am 8-Bit And So Is The Rest of Hollywood
Capcom Still Has "Ace Up Its Sleeve" For Bionic Commando
Texas Gamer: U.S. Arcades Never Say Die!
On the Road to PAX
Best Buy Fallout 3 Pre-Order Goodie
WoW Gold Site Advertises With Gnome Corpses
Patapon and Oblivion Get Budget Priced In Japan
Activision Blizzard's Preliminary Self-Tender Results
Tropic Thunder Movie Pimps Wii, Gaming
Frankenreview: Madden NFL 09 (PS3)
Brett Farve? No EA, It's Brett Favre
Madden 09 Launch - GameStop Goes The Extra Yard
NBA Ballers Lead Designer Leaves Midway
Nintendo Says "Thank You" For Watching Its E3 Press Conference
EA Announces New Puzzle/Adventure DS Title
China Brings Bullshots To The Olympics
First Details On The New Batman Game
Ninja Gaiden II Freezing Problems, Temporary Solutions
Midway Axes 80 to 90 in Austin?
Limited-Edition Pokemon DS Pack Announced!
Fallout 3 Cleared For Australian Release [Update]