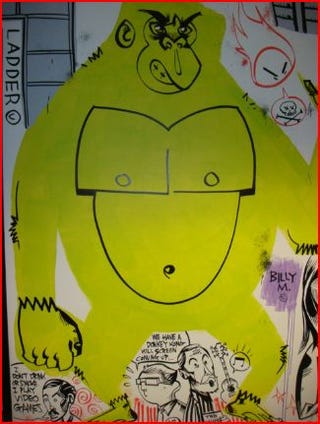 Way back before E3, during a visit to LA, I sat down with N'Gai Croal, Stephen Totilo and Geoff Keighley to talk about what was to come. After taping four segments, which were later aired in the lead up to E3, we were invited to go check out GameTrailers spanky new offices. The offices, technically for Spike Digital Entertainment and GT, were actually still in the decoration stage of things.
A team of artists
were wallpapering and painting every square inch of the place with splashes of color, style and culture. Among the pop video game references I noticed were a Mario and Luigi, some Space Invaders, Billy Mitchell (complete with a bottle of hot sauce) and a Gears of War cog. In fact there were way too many references for me to list, so instead I took a bunch of pictures. See how many you can find and if you're into office pics than you have to check out our
MASSIVE compilation of Work and Play photos
of some of the top people in gaming.