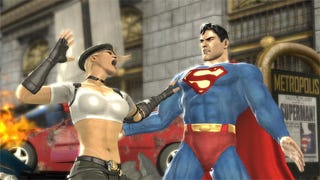 I know I wasn't the only person shaking my head in disbelief after seeing the initial teaser trailer for Mortal Kombat vs. D.C. Universe a few months back. "What are they doing to this franchise? This must be a joke!" I said to myself. So I was surprised – and relieved – after all the positive impressions the game received coming out of E3. But how does it play? Midway dropped by to show off their upcoming titles this morning, and I got a chance to get a couple matches in.
It appears as if Midway is going back to the basics with MK vs. DC. No more stage fatalities, run buttons, weapons, and no babalities or friendships either. Nothing crazy we've seen from the past couple MK games, anyway.
The build I played was from this past Comic-Con, so while Joker and Green Lantern were announced recently, they still weren't playable. And still, the only available fatalities were Scorpion's flame engulf, and Superman's brutality pound. Catwoman and Shang Tsung were playable, though, so I picked Catwoman just for the hell of it.