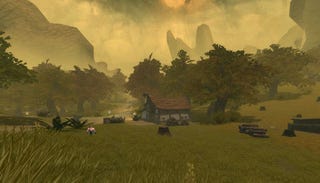 An MMORPG I've been keeping track of for quite some time, The Chronicles of Spellborn will be making a showing at the Games Convention at Leipzig this year, and they want to bring a few fans along for the ride. They've just updated their
website
with the fourth installment of their extensive game timeline, and to reward gamers who've been able to keep up they've asked a simple question:
Which Vhelgar have been revealed in the Timeline so far?
Find the answer to the question among the game's lore and email it to gewinnspiel@frogster-ip.de along with your contact information and you could be among 15 lucky winners of a one-day GC pass. Of course you'll still have to make your way to Germany to attend, but the thought is nice. isn't it? Here's some screens from the latest lore update to help assuage the disappoint of those of us without the ability to make last-minute trips to Germany.