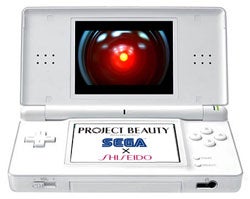 Sega's recently filed trademark for a title known as
Project Beauty
, dug up by Siliconera, left a good deal to the imagination. Was it just placeholder? A code name for
Skies of Arcadia 2
? Would we be subject to another creatively uninspired and vague video game name in the vein of
Project Origin
,
Project Gotham
and
Project Offset
? The answer is even better, as
Siliconera
has dug deeper into
Project Beauty
, rooting out a collaboration with cosmetics manufacturer Shiseido. The full (tentative) title,
Shiseido Beauty Solution Supervised Exploration Center: Project Beauty
, certainly makes the software sound like a Sega developed "Make-Up Training" application. That's the kind of non-game casual software that the Japanese gamer might just love. According to a Play-Asia listing for the title, it comes in two flavors, one with a 'DS Scan' and one without. There's a ten dollar price difference between the two, with a higher shipping cost on the bundled version giving the impression that it's coming in a big box. The whole thing smacks of
Otona no DS Kao Training
(aka
Face Training
) which came with a camera that plugs into the DS's Game Boy Advance cartridge slot. Whether
Project Beauty
supports the first-party camera, we'll have to wait to find out.
Project Beauty is a crossover with Sega and Shiseido?
[Siliconera]