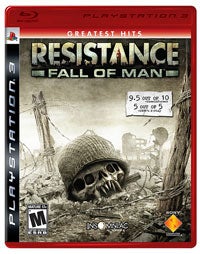 Looking to get your PlayStation 3 fix on the cheap? Now's your chance, as the Greatest Hits line finally comes to North America officially, starting today. The official PlayStation.blog updates us on what we learned at E3, that three first party titles and six third party titles are now getting the red box treatment for thirty U.S. dollars.
Warhawk
,
Motorstorm
,
Resistance: Fall of Man
,
Call of Duty 3
,
Fight Night Round 3
,
Need for Speed: Carbon
,
Tom Clancy's Rainbow Six: Vegas
,
Assassin's Creed
,
The Elder Scrolls IV: Oblivion
, and
Ninja Gaiden Sigma
are now yours for the bargain hunting.
PS3 Greatest Hits Launch Today
[PlayStation.blog]