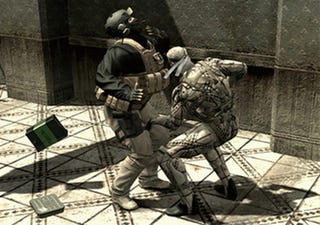 Oh man, oh man, this is just
horrible
. Remember our
Metal Gear Solid
'stache contest? Well, it seems that all the votes were eaten by the hamster that powers Kotaku — a first. We weren't able to pull them out, and because of that have no clue whatsoever who won. So! What I'd like to ask (beg?) Kotakuland is for another round of voting. But this time, we'll be giving away three prizes:
The Metal Gear Solid 2
figurine,
Metal Gear Solid: The Essential Collection
and something else. No idea what that third present is, but I have an idea it will be me going to my local convienence store and buying crap for that winner. The
Metal Gear Solid: The Essential Collection
was personally given to me by Kojima Productions' producer Ryan Payton. So it might still have his fingerprints on it! To vote click
here
. Please write "I vote for this" under the picture in the gallery you like best. Vote once
or else
. We cut off the contest tonight at midnight. Once again, apologies to all who entered and voted!