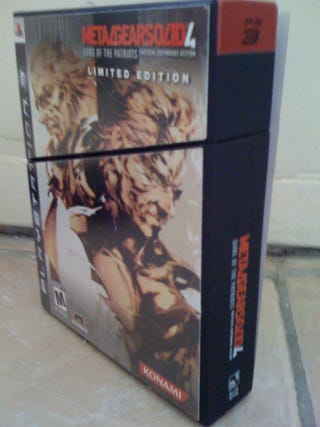 So my coveted Limited Edition of Metal Gear Solid 4 that I preordered from GameStop arrived today, and I must say, it's a rather lovely box set. I took some photos for your viewing pleasure - as all photos I take are blurry and crappy (I don't have a fancy camera), I ask you as always to forgive them, but I thought you'd like to see what's inside!
First of all, the box itself is great, made of dense hard cardboard and feels very substantial. The lid to the box is cut on an architecturally appealing angle, too.
For more from my pink kitchen floor, hit the jump.
This is what it looks like with the box top off. It's sitting on top of the art book that came with the set. The art book is made of what feels like sturdy poster tag that's glossy on the outside and a little more matte inside.


The art book has a lot of art (surprised?) and character models, plus a special section on the girls of the Beauty and Beast Unit, and how those characters (some of the most arresting I've ever seen in any game, I kid you not) were conceived. There's also a detailed timeline of the MGS universe, starting with Operation Snake Eater and leading up through the Big Shell Incident.