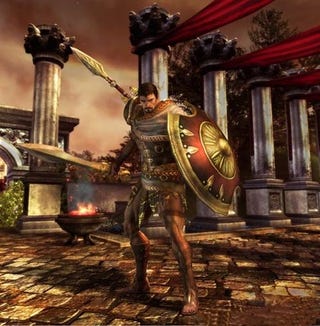 I swung by Codemasters' hotel suite when they were here in New York City yesterday, and one of the games I had demoed for me was the Greek mythology-inspired Rise of the Argonauts, in development by Liquid Entertaiment for a Fall release on PlayStation 3, Xbox 360 and PC.
I guess you'd call it a little bit action, a little bit RPG (but mostly action). The rep who showed me the game told me it's based in good old Gods-and-heroes Greek myth, but takes a little liberty with the canonical facts. For example, the hero is Jason, he of Golden Fleece fame, and in the game, his wife has been killed and he's seeking the fabled Fleece in order to resurrect her. If Kratos has learned us anything, it's that dead wives plus mythology equals a recipe for high drama and pathos.
The scene I saw featured Jason in a coliseum-style battle against some armored Ionians, and it was deliciously gory - when Jason clove torsoes with bloody abandon, you could see the severed spine in the middle, just like a rib-eye.
Fahey posted the trailer last year, during which he said he was glad that Jason was finally getting a video game (instead of just being Cerberus food in Kratos' hero tale). Some neat traits make this title look to be a lot more than a God of War knockoff, though: