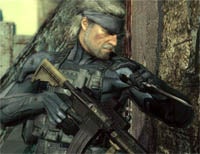 Reviewers often have restrictions about what they can and can't talk about in reviews - in my experience, these have been restricted to plot details, which have an embargo date a little bit later than the general review does. But MTV Multiplayer's Stephen Totilo has apparently heard from some gaming media sources who said that when it comes to Metal Gear Solid 4, particular details are off-limits.
I've been told by two gaming media sources who asked to remain anonymous that Konami representatives had been asking print reviewers to keep some technical details out of their reviews, namely the length of the game's cut-scenes and the size of the game's installation on the PlayStation 3.

Such details wouldn't have been plot spoilers, but perhaps the publisher was concerned that they would be viewed as negatives?

Konami representatives declined to comment to me about any of this, as did editors of a few major video game magazines.
So, no one wants to talk about it - but, as Totilo points out, here at Kotaku we've already seen box shots that suggest a 4.6 GB install for the game, and information suggesting the game has at least some rather lengthy cutscenes, possibly even 90-minute ones. Both bits of information seem to have spread like a virus all over the internet already, so if this is true, what would be the big hush on Konami's part?