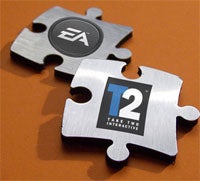 Electronic Arts may have recently extended the deadline for its bid to acquire Take-Two, but the company's shareholders don't seem ready to go quietly. EA's offer price remains at $25.74 per share, while as of today, Take-Two has seen share value just over the $27 mark.
A peek at recent SEC filings reveals another item of interest: When EA made its most recent deadline extension, its third, it stated that 6,210,261 shares of Take-Two stock had been tendered to EA as of May 16th. That's only a small percentage of what EA would need to acquire a majority - but its even less than they used to have.
At the time of the second extension, as of April 17th 6,432,787 shares had been tendered - which seems to suggest that 222,526 shares have gone back to Take-Two. Granted, those 222,526 shares are statistically tiny in the grand scheme of things, but even a small loss of stake seems an inauspicious sign for a company making a hostile bid.
On the other side of the coin:
The rise-and-fall pattern of Take-Two's stock seems nonetheless to follow the movements of EA. It traded at only about $17 per share at the time EA announced its bid, and only began to climb thereafter. The stock has seen highs just ahead of each bid deadline, and began its ascent to its current high just after EA announced it had borrowed $1 billion to give it "options" in financing the possible acquisition. Wedbush Morgan analyst Michael Pachter has suggested previously that such stockholder patterns might indicate anticipation for the completion of a successful transaction.