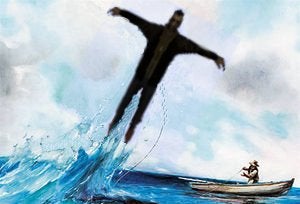 My Dad has been visiting since late last month and his arrival happened to have coincided with the arrival of another important thing in my life (these days): Grand Theft Auto IV.
Dad was, at one time in his life, quite a gamer. He introduced me to the glory of Donkey Kong on the TRS-80 (or was it the CoCo), looking as delighted as I was when he first loaded the game up with a tape player and sat me down to play it on a bulky keyboard.
His was the first computer upon which I ever played a flight sim, some early military flight sim on an 8088, I think. We played countless games of Doom together, logged hours of strategy gaming, but as gaming become more complex and my interests in console gaming slowly evolved our gaming lives drifted apart.
He tried to stay by my side, or the side of my avatar. He bought an Xbox, we played plenty of Ghost Recon together, but the speed of the game and his slowing reflexes, the caustic nature of online gamesmanship and Live chat slowly wore him down until he retreated from the Xbox to, of all places, Second Life.
It's there that I still find him, almost nightly, when I call, or when I walk down the stairs to say good night these recent weeks.
But something changed when GTA arrived. Maybe it was all of the time he heard me talking about it, the interviews, working on the stories, the reviews. Maybe it was one last attempt by him to reach out to me, to find that old connection of games. But he was intrigued, so I sat him down in front of the television and booted up the Playstation 3. Handing him the controller, a controller he had never seen, let alone held, I walk from the room.