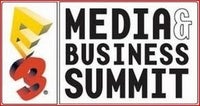 A heated debate has erupted between the Entertainment Software Association and the Game Critics' Awards over the eligibility of games in this year's E3 Media and Business Summit. The dispute was prompted by Activision and Vivendi's recent departure from the ESA and, simultaneously, from the show.
The association assumed that the departed companies' games would no longer be eligible for any of the annual "Best of E3" awards, given out by an independent group of Game Critics' Awards judges at each year's show.
But Geoff Keighley, GameTrailers executive producer and co-chairman of the Awards, said that decision hasn't been made yet. The critics' group, of which Kotaku managing editor Brian Crecente is also a member, still needs to meet to discuss the issue and decide how exactly to define which games are and are not eligible.
"The fact that Activision is not a registered exhibitor for E3 has brought to light the issue of how to determine the eligibility of games," Keighley said.
At first blush, the issue seems clear-cut. Not in E3? No "Best of E3" award. But, said Keighley, "A precedent has been set that in the past, judges have voted on games that have been presented off the show floor at hotel suites and across the street from E3."
Adhering too closely to the rules might lead to problems, as with Capcom's disqualification from the Academy of Interactive Arts and Sciences' DICE Summit awards show. Neither the critically-acclaimed and highly successful Resident Evil 4 nor the innovative fan-favorite Okami were eligible for any form of recognition, because Capcom had refused to pay membership fees to join the Academy.