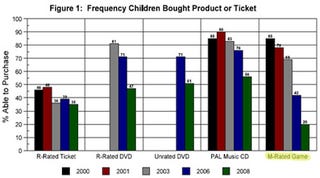 About 20 percent of underage teens were able to buy Mature-rated games during a recent nationwide undercover shopper survey conducted by the FTC, down more than half from last year, the FTC reported today.
The survey, which also looked at R-rated movies, DVDs and "Parental Advisory"-labeled music, found that video games had the best enforcement rate.
The FTC also broke out its statistics by retailer. GameStop topped the list with a 94 percent enforcement rate, while Hollywood Video came in last with 60 percent enforcement.
The FTC announced its results just as Republican representative Lee Terry and Democratic representative Jim Matheson introduced a bill in the U.S. House of Representatives that seeks to reinforce Entertainment Software Ratings Board ratings at retail with $5000 fines for violators.