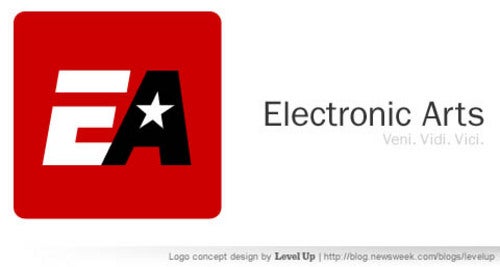 Maybe you've noticed, maybe you haven't, but it seems Activision CEO Bobby Kotick has been taking quite a few little digs at its fellow giant Electronic Arts these days — perhaps coincidentally, the same digs many of you have been taking at EA in the comments of my recent stories on the company's bid to purchase Take-Two.
On his Level Up blog, Newsweek's N'Gai Croal decided to go right to EA's Jeff Brown and see what the company had to say in its own defense. The logo you see here is Level Up's own design for the EA Empire — think they should adopt it officially?
In a recent Q&A with Portfolio, Activision CEO Bobby Kotick had the following exchange with the interviewer:

Is there a key to Activision's growth?

It's about really being considerate of the culture in the game studios that Activision buys. That's the biggest difference between us and any of our competitors. We built a model that celebrates entrepreneurial, opportunistic, independent values. It's almost the opposite of Electronic Arts, which has commoditized development. It did a very good job of taking the soul out of a lot of the studios it acquired.

What was the reaction of the executives at Electronic Arts when they read that quote?

The truth is, everyone laughed. In the past year EA has made radical changes to decentralize the company and put creative control back in the hands of development teams. It's too early to declare victory but if you talk to people like Patrick Soderlund at dice in Stockholm, Mark Jacobs at Mythic in Virginia or Josh Resnick at Pandemic—they'll probably tell you that it's working. They get a lot of resources and creative freedom. That freedom has already contributed new start-ups like Dead Space, Mirror's Edge and Boom Blox and there's a lot of others to be announced soon.
One interesting point that Croal brings up is that Activision has gone on the record saying that it wants "a history of profitability, good management, proprietary technology or franchise, history of multimillion-unit sellers," among other traits, in its potential acquisitions. EA would appear to be in harmony with Activision on this, and yet Activision has
repeatedly snubbed
any possibility of a Take-Two acquisition. Why? Says Brown, "That's between him and his investors."

War of Wordcraft: After Repeated Shots From Activision CEO, Electronic Arts Finally Fires Back
[Level Up]