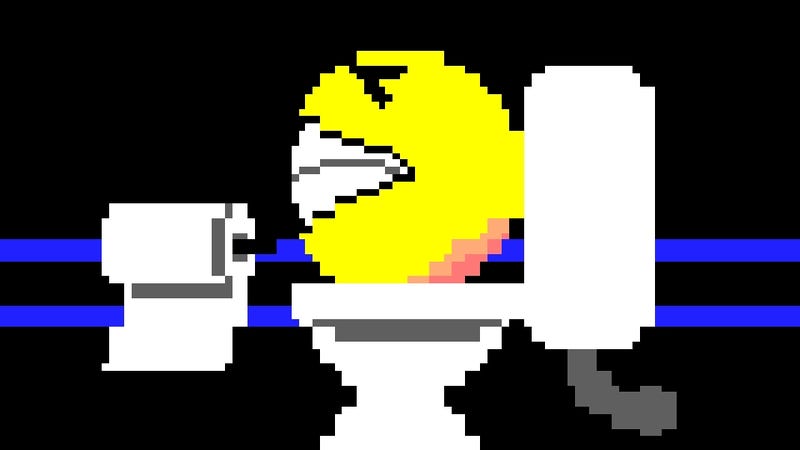 This week marks my third anniversary with Kotaku, spending all of that as the site's weekend editor. On my third weekend here, my brother Fletch and I unloaded this post - "Two Brothers Meditating Upon Questions of Pac-Man," originally published April 19, 2008. A hypothetical calculation of Pac-Man's, er, metabolic functions, it became one of Kotaku's all-time humor classics. It's re-presented here, updated for the site's current design, with a gallery now featuring two alternate, unpublished images.
• • •
My brother, Fletch, and I were 8 and 6 years old, respectively, when Pac-Man debuted. As this IM conversation demonstrates, to this day we approach the game with the same wide-eyed curiosity and emotional maturity as we did in 1980.
Tuesday, April 15
10:01:53 AM Owen: hey, pac-man question: how big were the dots and the energizers, in pixels
10:02:08 AM Fletch: You mean on the original video game screen?
10:02:16 AM Owen: yeah, 2x2 for dots, and roughly 8x8 for the energizers?
10:02:20 AM Fletch: i guess. I don't have bionic graphic measurement powers
10:02:37 AM Owen: I'm trying to figure how big a shit Pac-Man would take after one board.
(you've been warned...)

10:03:15 AM Fletch: Isn't this begging the rather obvious question of the location of pac-man's anus?
10:03:30 AM Owen: ...
10:04:21 AM Fletch: I'm betting Pac anatomy would confound human xenobiologists
10:04:24 AM Owen: o_O