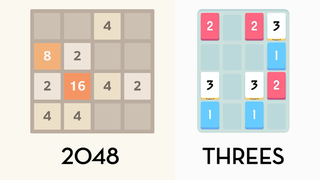 Every video game has clones, but how often does the clone find more success than the game it copied?
Last week, the LA Times published an article about 2048, an increasingly popular puzzle game that was developed by a 19-year-old Italian web developer earlier this month.
"How long does it take to create a hit video game these days?" wrote the Times. "Just about one weekend, if you ask the creator of popular puzzle game 2048."
But in their original report, the Times missed the full story. 2048 is a near-direct clone of a game called 1028, which itself is a clone of Threes, the crazy-addictive game that just about everyone at Kotaku has been obsessed with for the past two months. They all share the same basic gameplay: players slide tiles around a 4x4 grid, matching numbers in an attempt to get as high a score as possible before running out of space. Released this past February, Threes was in development for just over a year—a stark contrast to 2048's "just about one weekend."