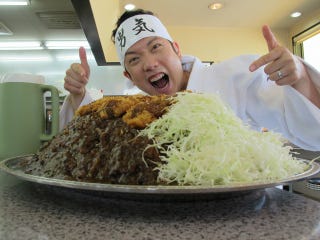 You hungry? Like really, really hungry? Well, have I got a meal for you.
Curry restaurant Gold Curry has a special "challenge menu." (Note: Japanese curry is different from Southeast Asian curry. Website Ishikawa Jet has a good explainer.) Even in the world of super-sized Japanese food, this menu is rather unusual. And by "unusual," I mean bonkers.
For example, if you order the 2-kilogram "challenge" curry rice (priced at 1,980 yen or US$18.90) and eat it in fifteen minutes, it's free. Then, there is the four-kilo curry rice challenge, which is 3,480 yen ($33). Finish it in thirty minutes, and it's free.
Sound easy? This gentleman is trying the four-kilogram challenge (photos courtesy of website Woodball).
Look how happy he is!
Don't give up!
Oh dear.
Here's where things get interesting. If you finish the six-kilogram curry rice challenge in thirty minutes, your 4,980 yen ($48) meal isn't only free, but the restaurant will pay you 30,000 yen ($285) in prize money. Finish the eight kilogram curry rice challenge in 45 minutes, and get your 6,480 yen ($62) meal paid for and get awarded the 50,000 yen ($477) prize purse.
The last challenge on the menu is the 10-kilogram curry rice challenge. It's priced at 8,000 yen ($76), and you have an hour to finish the meal. Do so, and it's free. What's more, Gold Curry will also award you 100,000 yen—or $953.
Keep in mind, you are mostly eating rice. So, if you order the ten kilo curry rice, that's ten kilograms (22 pounds!) of white rice that you have to eat in an hour. My family of four goes through a ten-kilo bag of rice in a month. If that still doesn't help put things into context, here's a photo:
Goodness.
With the curry, sliced cabbage, and pork cutlets.
Last spring, at Gold Curry's branch in Bangkok, a brave food fighter ordered the ten-kilo curry.
Obviously, you must finish the meal by yourself. And it's timed!

So much rice.
This guy is making good headway, though.
The brave challenger made it about half way through, eating over six kilograms of rice in an hour. A defeat, sure, but a valiant effort.
What about you? You up for a challenge?
【金沢ゴールドカレー】タイのフードファイターが10kgカレーに挑戦しました![Woodball]
To contact the author of this post, write to bashcraftATkotaku.com or find him on Twitter @Brian_Ashcraft.
Kotaku East is your slice of Asian internet culture, bringing you the latest talking points from Japan, Korea, China and beyond. Tune in every morning from 4am to 8am.