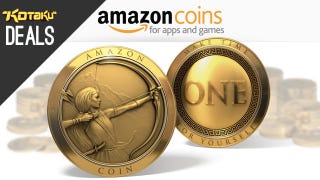 Amazon is continuing its assault on your Android device with $10 in free Coins for downloading five free apps. Whether you keep the apps or not is irrelevant; the $10 is yours to use as you see fit on the Amazon App Store.
If you haven't yet downloaded GTA: San Andreas from Amazon, they're still giving away $20 in coins with your purchase, so you could use your $10 credit to buy the game, and end up with $23 and six new apps in your pocket without spending a penny. [$10 in Free Amazon Coins]
---
We've got not one, but two new Humble Bundles to report today. The new Humble Weekly features seven RPGs from Triumph & Larian, and a new Humble Daily Bundle includes Incredipede, Escape Goat 2, Ironclad Tactics, and more.